Can you intervene now to prevent signs of aging later?
(No. 79) Clint Eastwood, Jane Fonda and me, by Stephen P. Williams
Act now to stop skin canyons. Or don't.
Selfie by Self
I'm both shocked and intrigued by the new, to me, concept of using cosmetic procedures in youth to prevent wrinkles as you age.
I'm on a road trip now, part vacation and part work. A week ago I flew from New York to Austin, where I picked up my younger brother (born five years after me, to the day -- ruined my birthday party), for a drive along the border towards Los Angeles. He flew home from Phoenix yesterday, and I drove further west through the endless desert. At the moment, I'm in Joshua Tree, California. The courtyard of my hotel has many fountains gurgling to keep the highway noise at bay. And the sun is fierce, even in late March. This morning I took a four mile walk up into the hills, for exercise, shadowed for a while by a rangy coyote. The sun on my skin reminded me of how little care I've taken of that part of my body over the years. On this trip I borrowed my brother's man-branded face cream most mornings. But for the most part, I've done nothing to care for my skin other than apply sunscreen to my face. The wrinkles are definitely more pronounced, year after year. Summer sun makes them stand out even more.
If I'd been a teenager in the 2020s, rather than the 1970s, I could have tried prejuvination and possibly prevented this decomposition. But in truth, I don't mind a few wrinkles.
Prejuvination
According to The New York Times, social media talk about using botox at a young age to prevent later wrinkles has been increasing. (Not exactly scientific evidence, but…) Botox, which is made from the toxic Clostridium botulinum bacteria, is used cosmetically to freeze facial muscles so that wrinkles disappear. The injections are not generally harmful, but they have to be repeated every few months. The idea behind prejuvination is that if you freeze the muscles when your face is young and unlined, the wrinkles will never appear in the first place. Over 800,000 people in their 30s had botox injections in 2020. There are no stats on how many wrinkles they will develop as they age. 
The trend doesn't just embrace Botox, but also many other treatments ranging from facial masks to vitamins meant to prevent the horror of looking old when you get old.
Click the TikTok video, below, to witness a treatment.
Here is a pyramid of prejuvination, in Spanish, used to promote a podcast.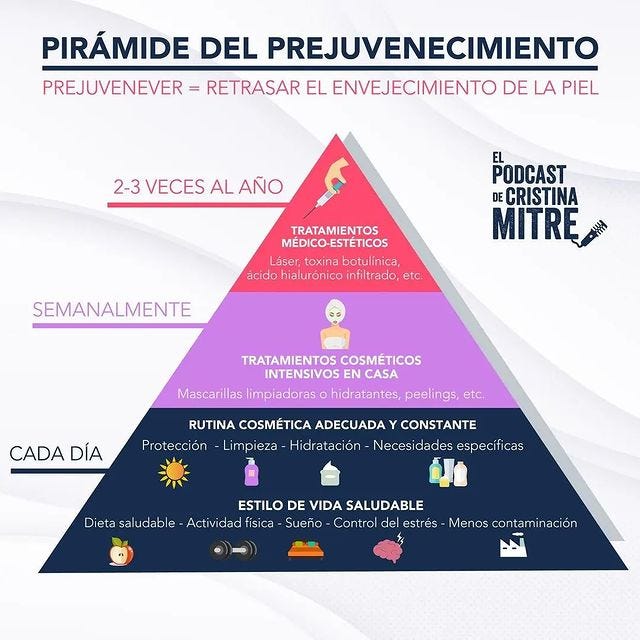 The bottom of the pyramid promotes daily exercise and a good diet, among other things. The next layer up suggests intensive weekly home cosmetic treatments.  And at the top are medical interventions, like Botox, every four months.  The bottom layer sure seems reasonable. I do that. But I guess if you, like me, don't do the top layers of the pyramid, you get wrinkles, also like me. 
I actually like my wrinkles. When I'm bored I can stick a piece of straw in my mouth, squint into the mirror and imagine myself as a character in a Clint Eastwood movie. (The wrinkle action starts below at about minute 1:20.) 
"You see, my mule don't like people laughing." — Clint Eastwood
And here's a contemporary of Clint Eastwood, visibly wrinkled, talking about aging.
I was ten when I first went to a movie theater on my own. I saw Barbarella, starring Jane Fonda. Not sure how I got into the theater, since it was supposed to be for mature audiences.
Should she have prejuvenated herself? Of course, I don't have the answer, because I'm not Jane Fonda. But I hope that younger people looking at her, and at Clint and the other actors, above, will see the beauty in future lines.
Sources:
The New York Times Plastic Surgery News
---
My complaint
Ok, I admit it. I have vain, shallow thoughts. Do you?
The side-effect of aging I dislike the most is my turkey wattle. But it is also what leads my quest for self-acceptance. I want to be me. Free. Just me. And that means taking myself as I am. I love this quote from Nora Ephron's book, I Feel Bad about My Neck: "Our faces are lies and our necks are the truth. You have to cut open a redwood tree to see how old it is, but you wouldn't have to if it had a neck."
---
Here's what follows, for paid subscribers of Stephen's People.
The dream life of living in a van and keeping fit on a bicycle.

More botox bad news.

Science can cure death?

Natural deodorant.

Mescaline vs. Tylenol.

Sleep for anxiety.
If you can't afford a paid subscription, just write me at stephen@stephenpwilliams.com, and I'll send you a complimentary one. Thank you!
Keep reading with a 7-day free trial
Subscribe to Stephen's People to keep reading this post and get 7 days of free access to the full post archives.