Discover more from Stephen's People
I write about the beauty of aging, even when it's ugly, and how we can live forever in this moment.
Over 1,000 subscribers
Joy, Hawaii, Pac Man, I love my Stans
(No. 30) Some days it's just as easy to feel great as to feel anything else. By Stephen P. Williams
(Please click the heart, above — like you, my success is determined by algorithms)
But first, this: Toru Iwatani was inspired to invent the iconic video game, Pac Man, when he pulled a slice out of a pizza pie. The name came from paku paku, a Japanese phrase for "chomp chomp." The game debuted in Tokyo in 1980, not long before I arrived in that city to work for a newspaper. It's the only video game I have ever enjoyed. And now it is 40, experiencing that renewed need for meaning that so many 40 year olds seek. I wish all of them, and Pac Man, success and purpose.
Video games generally don't align with my brain structure, but I can handle Pac Man.
---
Build your financial life
I believe that entrepreneurship will be key for aging people to find their ways in this newly developing economy. The End Well project offers a pitch competition sponsored by AARP Innovation Labs that focuses on solutions for problems of aging. What could be a better fit! The applications are closed for next month's pitch, but you can watch it and start thinking about your million dollar pitch for the next one.
---
Joy is available. We have to take it.
Joy is a rare feeling for many people. As an adult, joy is an easy emotion to suppress because we associate the emotion with childishness. We think we need to be more serious. Well, to hell with that. Here are fourteen ways to feel joy. (It took me a while to figure out the complicated design of the story I've just linked to. Just hover over the acronyms — some have nice drawings that appear out of nowhere — and click.)
---
A joyful version of Over the Rainbow
Israel "IZ" Kamakawiwo'ole (his name meant "the fearless eye, the bold face" in Hawaiian), was an activist for Hawaiian sovereignty and a well known singer. Born in 1959, he died at age 39 of complications from obesity. What a loss.
---

I have never before had a fan. Now I have a couple.
Age: The Next Everything has gotten some very nice ego-boosting comments on Facebook lately. I don't use FB that often, and don't really understand how it works, but I did my best to reply to these comments on my appearance, which was kind of funny. Especially when they assumed I wouldn't have a good personality! I will share below.  I encourage more comments on my page. And I will always respond, especially if you make me laugh by comparing me to Simon Cowell. I've collected some of the flattering compliments below. It's nice to be appreciated.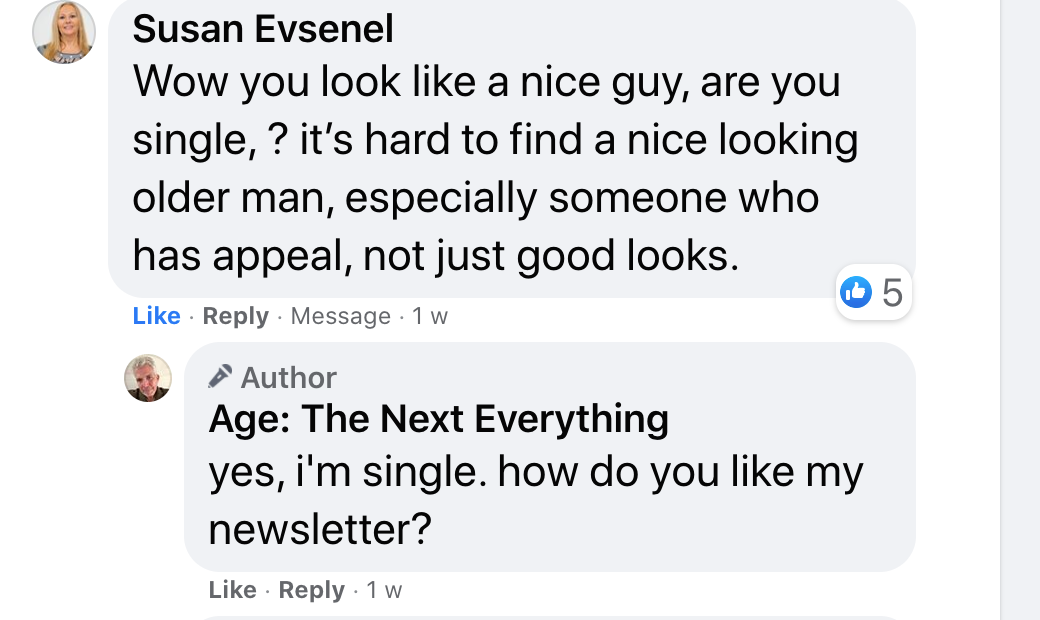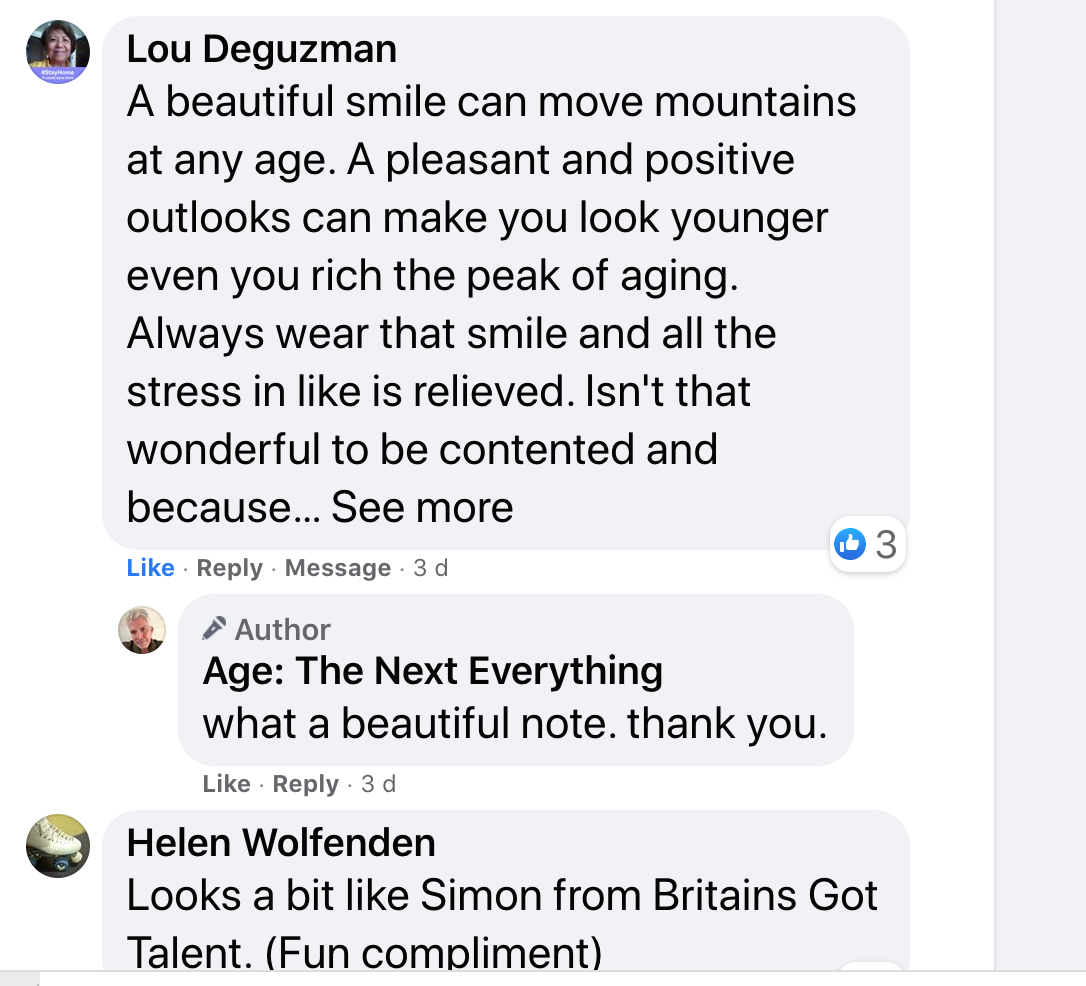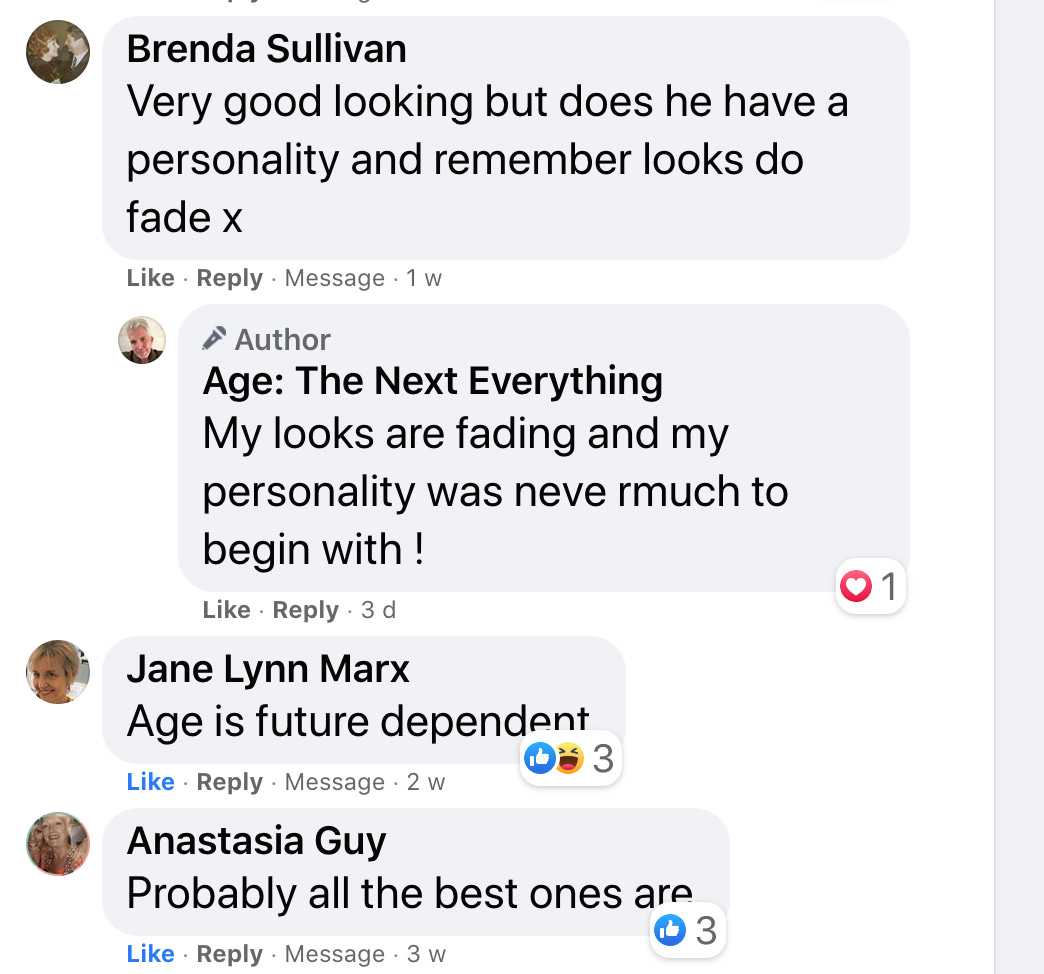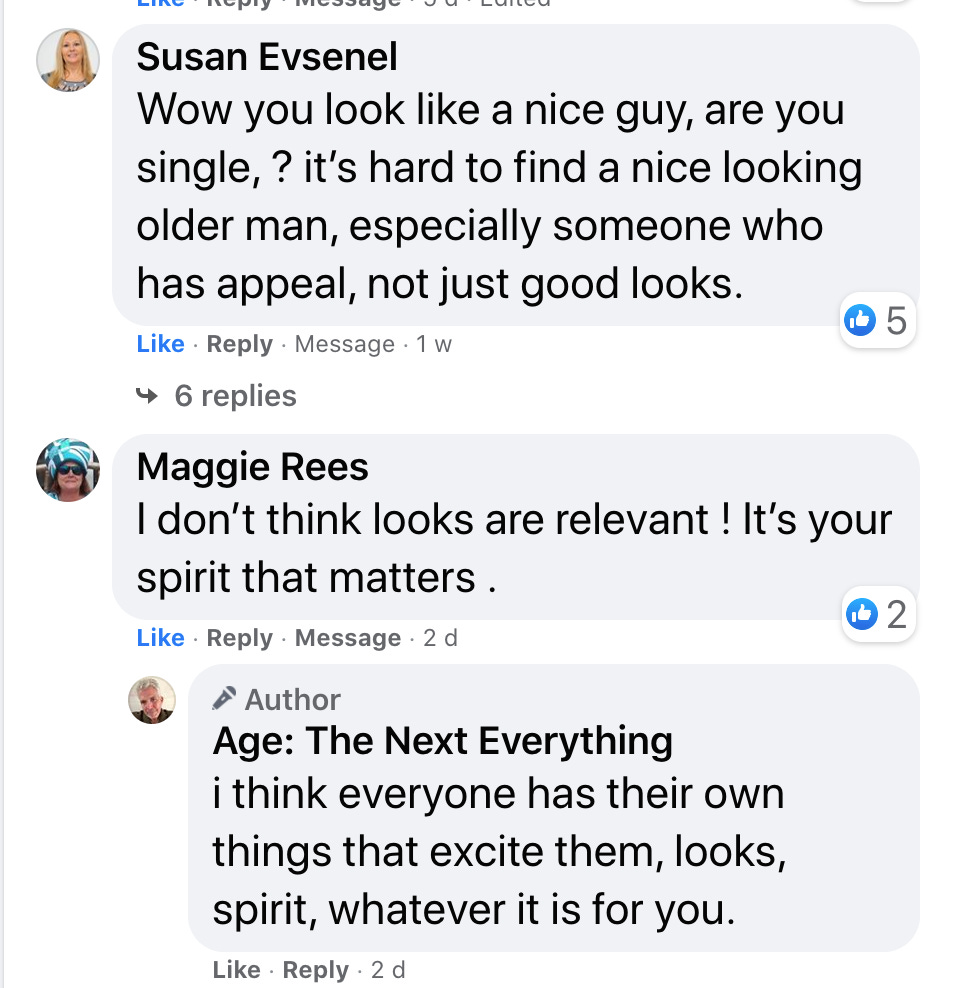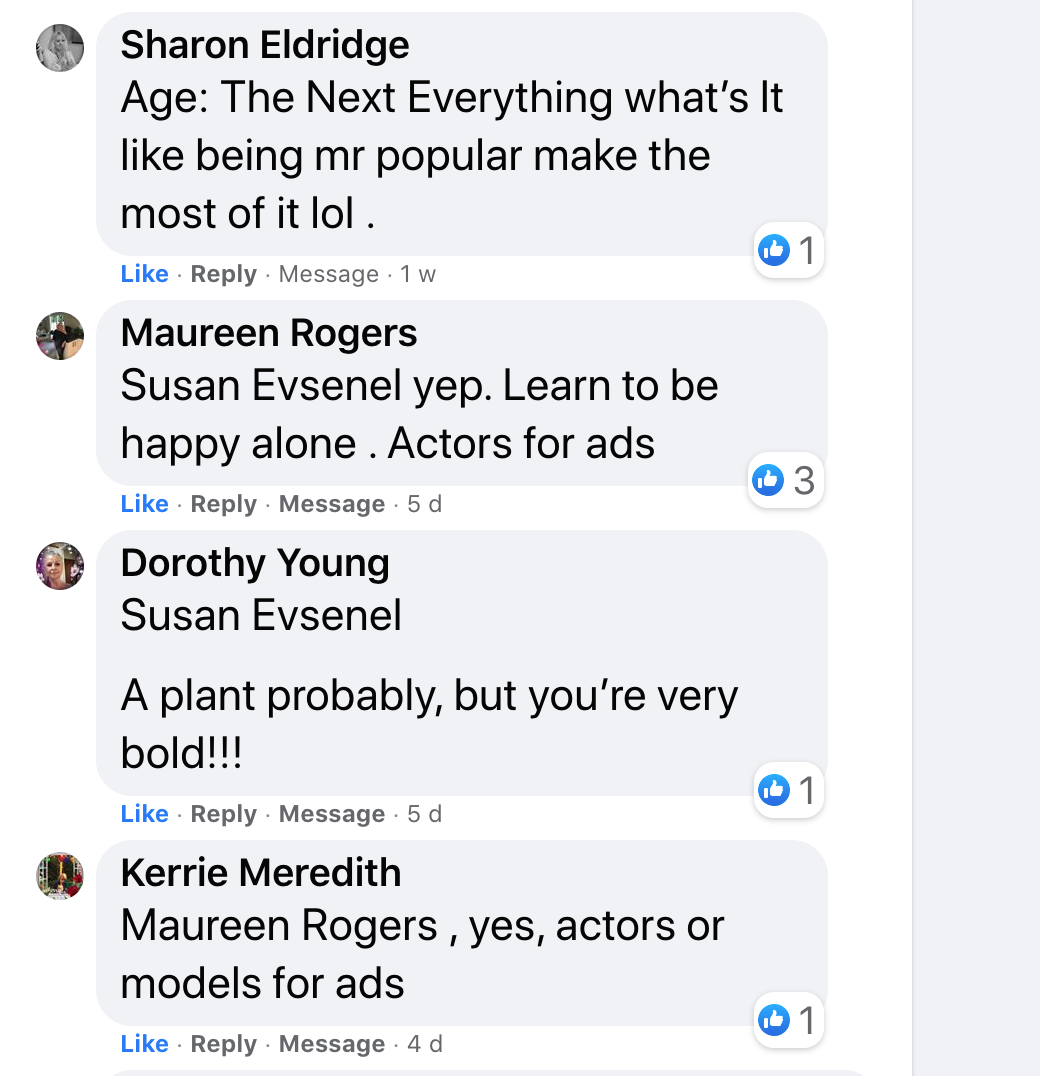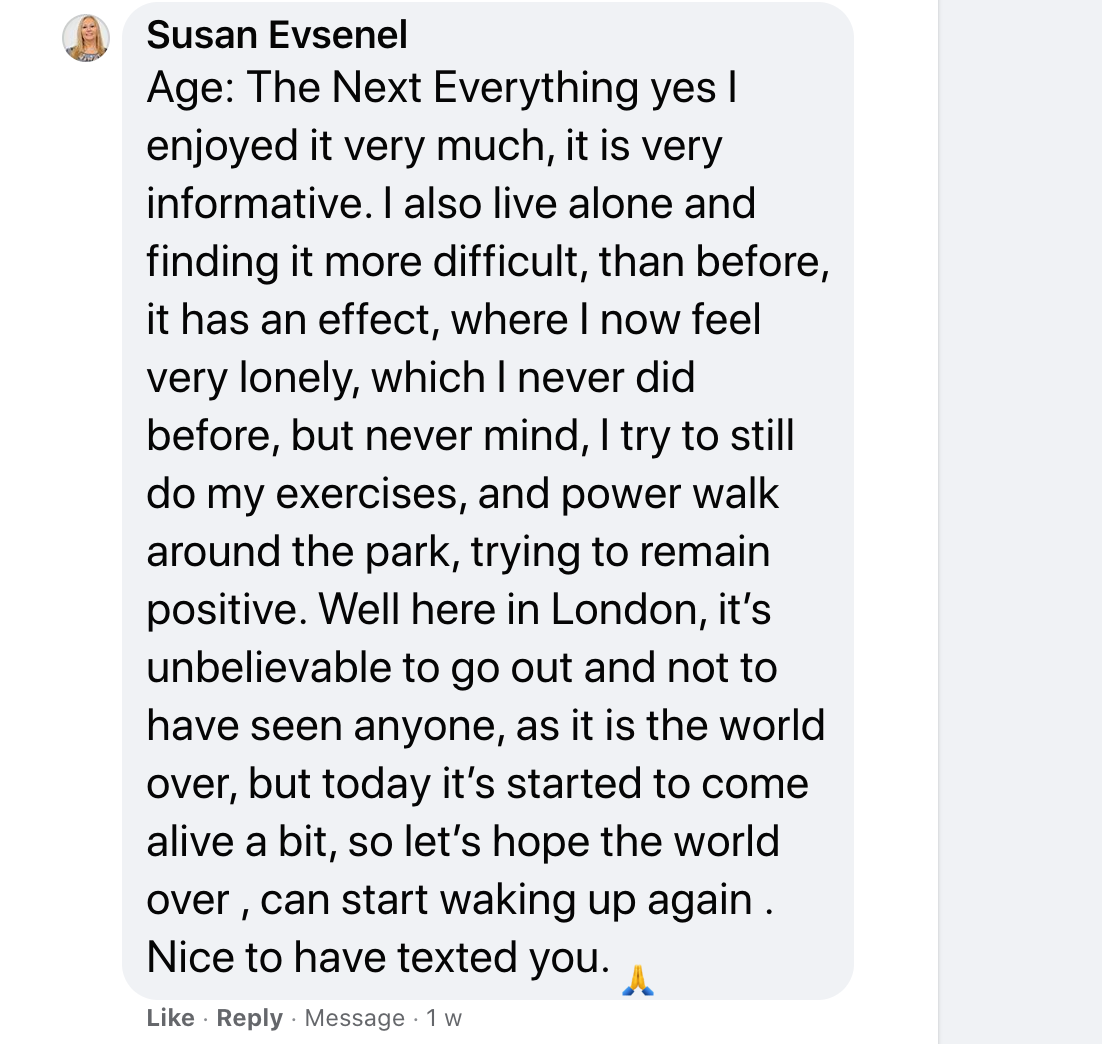 Thank you. I've never before had fans, and it thrills me. Please visit the Facebook page for Age: The Next Everything and make comments, good or bad.
---
News for everyone, 21 to 121
Lemonade from lemons
I'm heartened to read that about one-third of adults surveyed believe the recent shelter in place orders have changed them for the better. Let's try to get the others to join!
Public restrooms
I recently took a walk several miles from my home up through Central Park and at one point I needed to use the bathroom. The facilities were open, but they were also full of homeless men who needed the sinks to bathe and wash their clothes, and the stalls and urinals were crowded. It felt apocalyptic, due to the virus, and also very sad — shouldn't a modern city in a modern country be able to supply hygienic services to all its citizens, at least for the common good? I ended up peeing behind the abandoned carousel nearby, and I'm not proud of it. Older people often have to go in a hurry, and that got me wondering how safe it is to use public bathrooms in this age of the virus.

Scrabble
Everyone knows that when you pass age 30, all you do is play Scrabble, right? If so, these topical words of the week might help you trounce your loved ones at the game table.
---
Hand sanitizer, sleeping bag and truck: @Postcards from a Pandemic is going on the road.
Just want to give you a heads up that I'll be leaving New York in two weeks on a three month drive around the country looking for the voices of the pandemic. I want to find what people are thinking and doing, beyond the news hype, and I want to see how the landscape is holding up. I'll be driving a pickup and sleeping in a bag, but every Friday I'll get a comfy hotel room and write Age: The Next Everything. If you know of someone interesting I should talk to on the road, please let me know at stephen@thenexteverything.net. And follow me on IG @postcardsfrompandemic and be the first to follow me on twitter @postcardsofpan. Thank you!