Discover more from Stephen's People
I write about the beauty of aging, even when it's ugly, and how we can live forever in this moment.
Over 1,000 subscribers
Personality Upgrade
(no. 1) ~~~~~~ Are you getting better? Most definitely. ~~~~~~ by Stephen P. Williams
first, a quick one: in the market for
spray-on hair
?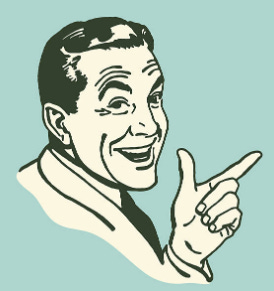 Your 20's Make You Nicer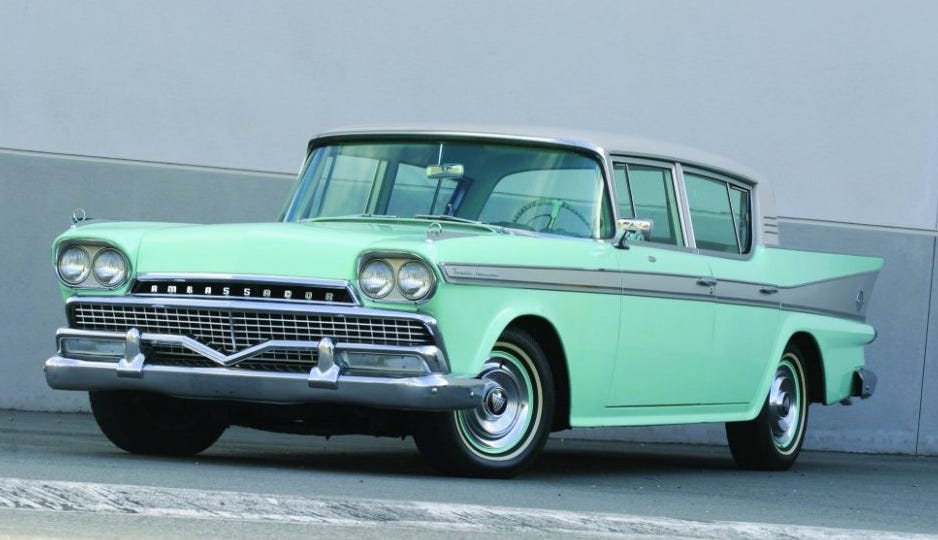 A stylish car for a 16-year old.
Maybe we're all getting better by the minute. I was born in '58, the same year as my first car, a Turquoise Rambler with seats that folded into a double bed. My Great Grandmother Millie gave me that beast when I was 16, with this admonishment: "Do not fold those seats into a bed — ever." Well, I did. That was the obligation of youth.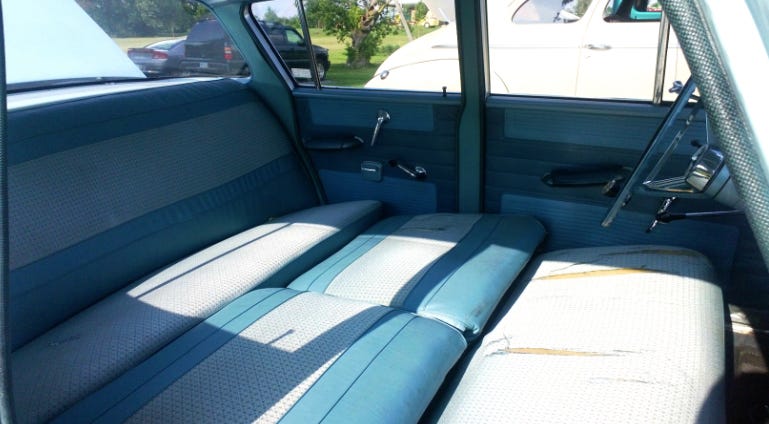 In this interior I found I didn't know anything about making out. Plus, my head hit the horn.
I look back, and in many ways, I feel like I'm exactly the same person who got that car: kind of smart, lots of dumb. I still wear blue or white t-shirts and jeans most days, often with a pair of Converse. My hair is white, but rises in a pompadour of sorts. So I was surprised to read about a study that said our personalities change dramatically between our teen years and our 70s. I'd thought we stayed pretty much the same, except for minor wisdom upgrades.
It's a common trope that all the cells in our body are completely regenerated every seven years, but the truth is more complex (what truth isn't?). It turns out that some cells are replaced in that time, and others hang around till the end. And it seems our personalities might be transformed to an even greater degree than our bodies as we get older.
While there's some truth to the idea that people get grumpier as they age, it's not all bad, according to a turn of the century study published in the Journal of Personality and Social Psychology. The researchers analyzed data from 132,000 US and Canadian people aged 21 to 60 who rated themselves on what psychologists call the big five personality traits: conscientiousness, neuroticism, agreeableness, extroversion and openness.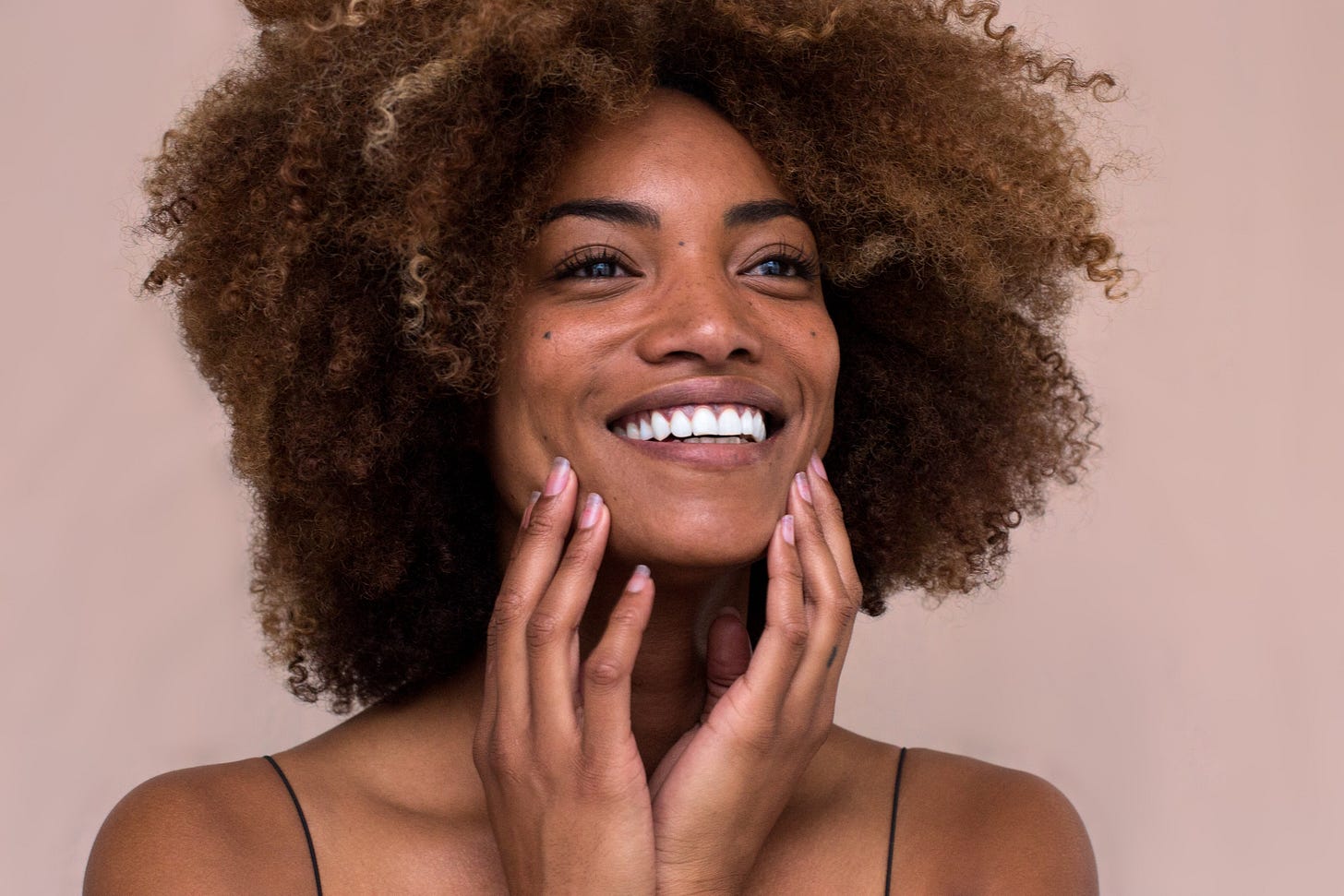 Aging can lift everyone's mood, even those who are young. Photo by 
Park Street
 on 
Unsplash
The study found changes through the decades. In a person's 20s, the trait of conscientiousness — taking care of business — increases a lot. In the 30s, a person generally becomes more agreeable, warm and generous, and in women, neuroses decrease at the same time (not true for men). Overall, women get less talky and gregarious as they age, and men get a little more chatty. In general, people get better as they get older, meaning they care more about others, and are more interested in fulfilling their obligations. By their 70s, most people have very different personalities than they did in their teens.
Good news. I like knowing that I might get better as I get older.
---
More News You Can Use
America, the Gentrocracy
America is a gentocracy, run by a group of people who are about as flexible as the dudes on Mt. Rushmore. "If you calculate the median age of the president, the speaker of the House, the majority leader of the Senate, and the three Democrats leading in the presidential polls for 2020, the median age is … uh … 77," writes Timothy Noah, in Politico. Don't you think there comes a time when everyone should enjoy the feeling of letting someone else do the job?
Gen Z and Millennials Get No Respect
Age discrimination in the workplace can feel like it sometimes goes in reverse, to hurt younger people -- but the Supreme Court has ruled that reverse age discrimination isn't significant. In 2004 the Supremes issued an opinion saying the Age Discrimination in Employment Act of 1967 (ADEA) only protects older employees. The term ageism was coined in 1969, intended to highlight only discrimination against older people. That feels discriminatory, right? Maybe it's time to talk up #youthism.
Damn It, Granny, Give Up the Joystick
Older people are taking up gaming at a rapid clip, including this 88 year old who just can't quit, these warriors, and this guy.
Brush Your Teeth
A review of 81 studies from 26 countries found a connection between poor dental health, including periodontal disease, and high blood pressure. High blood pressure has been linked to heart disease. In other words, brush your frigging teeth. Healthy gums will make your heart tick longer, and fresh breath will help your heart love longer.
Broken Hotted
A wedding guest in Israel mistook spicy Japanese wasabi paste for avocado dip and nearly broke her heart, according to a report in the British Medical Journal. The 60-year old woman mistakenly ate a teaspoon of the potent green condiment and immediately felt some classic symptoms of a heart attack, including chest pressure and pain radiating down her arm. She was diagnosed with takotsubo cardiomyopathy, aka broken heart syndrome, which typically occurs in older woman after sudden emotional or physical stress.
I hope you've enjoyed this first of many iterations of Age: The Next Everything. Please subscribe to have this delivered to your mailbox once a week.
Please reach out with questions, comments and ideas at: stephen@stephenpwilliams.com