Discover more from Stephen's People
I write about the beauty of aging, even when it's ugly, and how we can live forever in this moment.
Over 1,000 subscribers
Sugar enhances the aging process
(No. 35) Sleep it off so you can outpace a dinosaur, by Stephen P. Williams
(Please click on the heart, above, if you feel it.)
---
Let's Not Let Ourselves Eat Cake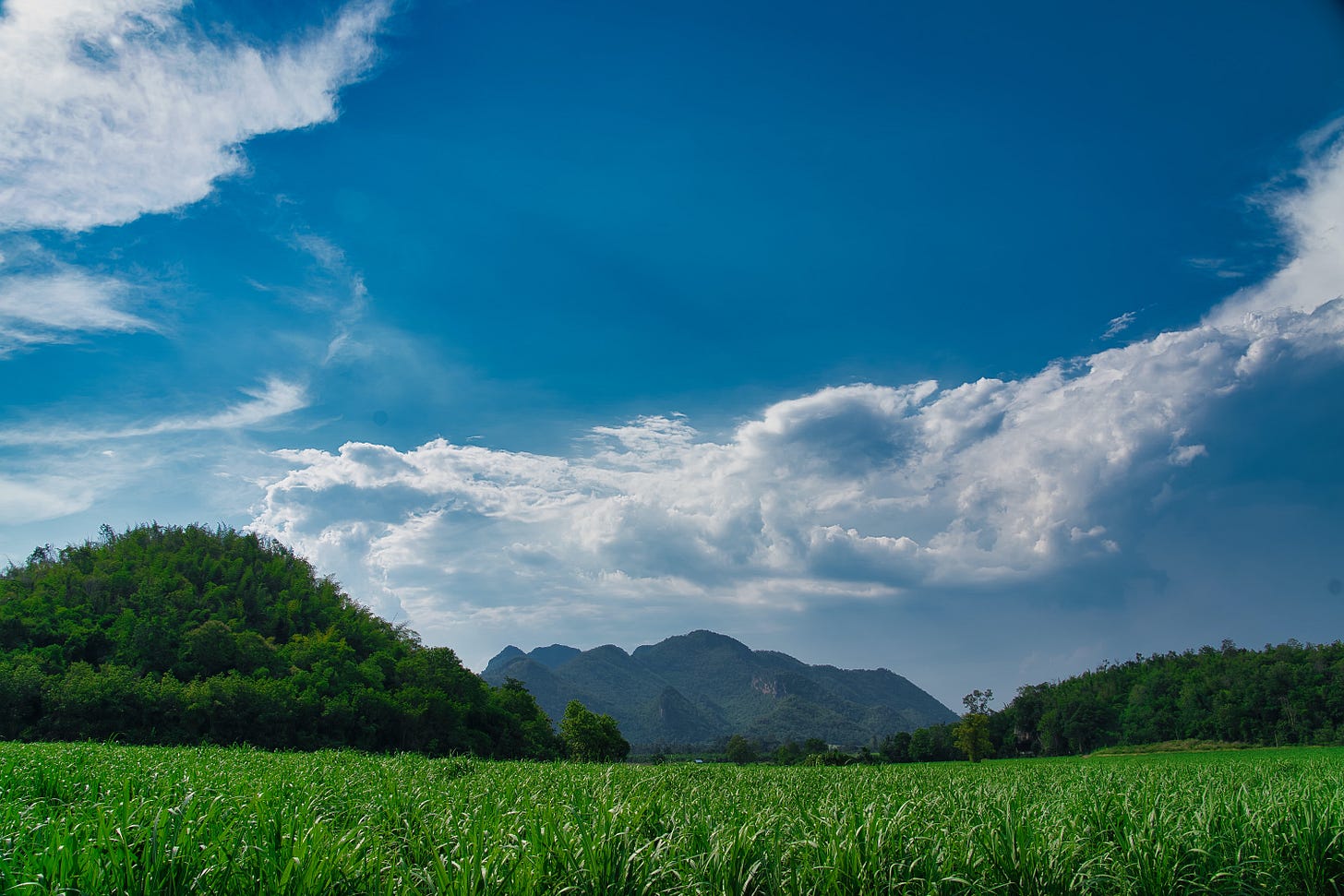 Sugar comes from sugar cane, and other plants. Photo by
Boom Tossabhorn
on
Unsplash
Last night I had a socially distanced dinner with two good friends at their house in gorgeous Sonoma County, California. We had fresh oysters from the Tomales Bay (oysters contain high amounts of zinc, which help aging skin repair itself), grass fed beef burgers (grass fed is higher in Omega 3 fats and other nutrients that are good for your heart) a few fries (only negative health "benefits") and salad (yeah, eat your salad). I was stuffed, but then my hosts offered a special local ice cream with fresh blueberries and even though my gut told me to refuse, my mind told me this was an excuse to get some sugar in my body. Seriously, as though I were a heroin addict accepting some opium.
Sugar is the bane of aging. I try to do things to slow aging down, to make it an easier ride. Yet in the eight week of my travels around the country for my project, Postcards From Pandemic (and here), I have slipped into a sugar state. For the first seven weeks I didn't really eat sugar at all, except for two times I substituted a hot fudge Sunday at Dairy Queen for dinner. But then last week I bought some sweet peanuts, and then a Pop Tart (yes, a brown sugar frosted Pop Tart), and now I can feel that sugar has its hold on me once again. I must stop, because I know from experience that sugar is, for me, powerfully addictive, and very destructive. 
When I say addictive, I mean it can cause compulsive responses in people, much like alcohol, nicotine and Valium. According to a review of the literature in the British Journal of Sports Medicine, animal studies have shown that sugar causes drug-like responses such as bingeing, craving, withdrawal and increasing tolerance over time. This is because sugar can trigger neurochemical reactions similar to drug abuse. This doesn't apply to everyone, but I can see how it applies to me. I encourage all of us to look at our sugar consumption and see if it is a habit. Why? Sugar ages us.
Habitual sugar consumption can reduce the production of human growth hormone (HgH), which is an essential building block that reduces the impact of aging on our bodies, by regulating muscle growth, metabolism and heart health, among other things.

Eating sugar triggers the pancreas to produce insulin, which is a natural response, but when it happens frequently it can cause an insulin inhibition that leads to diabetes, metabolic syndrome and a host of other problems.

Sugar can lead to obesity and malnutrition, as we crave less than healthy foods like pastries, rather than nutrient rich foods. This happens to me, for sure. And for reasons I don't totally understand, drinking sweetened carbonated drinks can reduce bone density, aggravating the risk of osteoporosis.

Sugar can cause "inflammation" of the body, which encourages the skin to break down and the body to function less well -- neither of which we want as we age.

Some studies link chronic high blood sugar levels to Alzheimer's disease.
I call it sugar addiction, but I also know that many people don't have the same reaction to sugar that I have. I don't mean to shame sugar eaters, for sure. I'm just encouraging people who want to age well to look at their sugar intake -- found in fresh fruits and juices, sweets and snacks, processed flours, sweetened drinks, including alcohol -- and decide for themselves if it's a problem. If so, I recommend going cold turkey for a few days, until the cravings pass. That's what I'm going to do, starting right now.
I'll report back in the next newsletter. Let me know how it works for you.
---
Youth was not wasted on this young guy
This video always makes me smile at youth.
---
More news for you, now
Stress, fear or anxiety?
How to identify what is paralyzing you, and what do do about it.
Pay attention to your body
A viewer told a TV anchor that a growth on her neck looked suspicious. And guess what? It was.
How to outrun a dinosaur
The way 2020 is going, this info just might be useful.
---
As I've mentioned, I'm on a three month road trip across America to document people's responses to the pandemic. I'm in California now, and soon will head over the Sierra's to Nevada, Montana, Wyoming, South Dakota and elsewhere. Please let me know if there's a place or a person you think I should visit. stephen@stephenpwilliams.com.
In the next week I'm going to send a short note to people I know discussing some of the stories I've written and the people I've met along the way. I'm planning to send it to all the subscribers of Age: The Next Everything. Unless you don't want to receive it. Please let me know. It will be short, and interesting, but I don't want to bug anyone. I really appreciate your interest in The Next Everything, above all.
Thank you.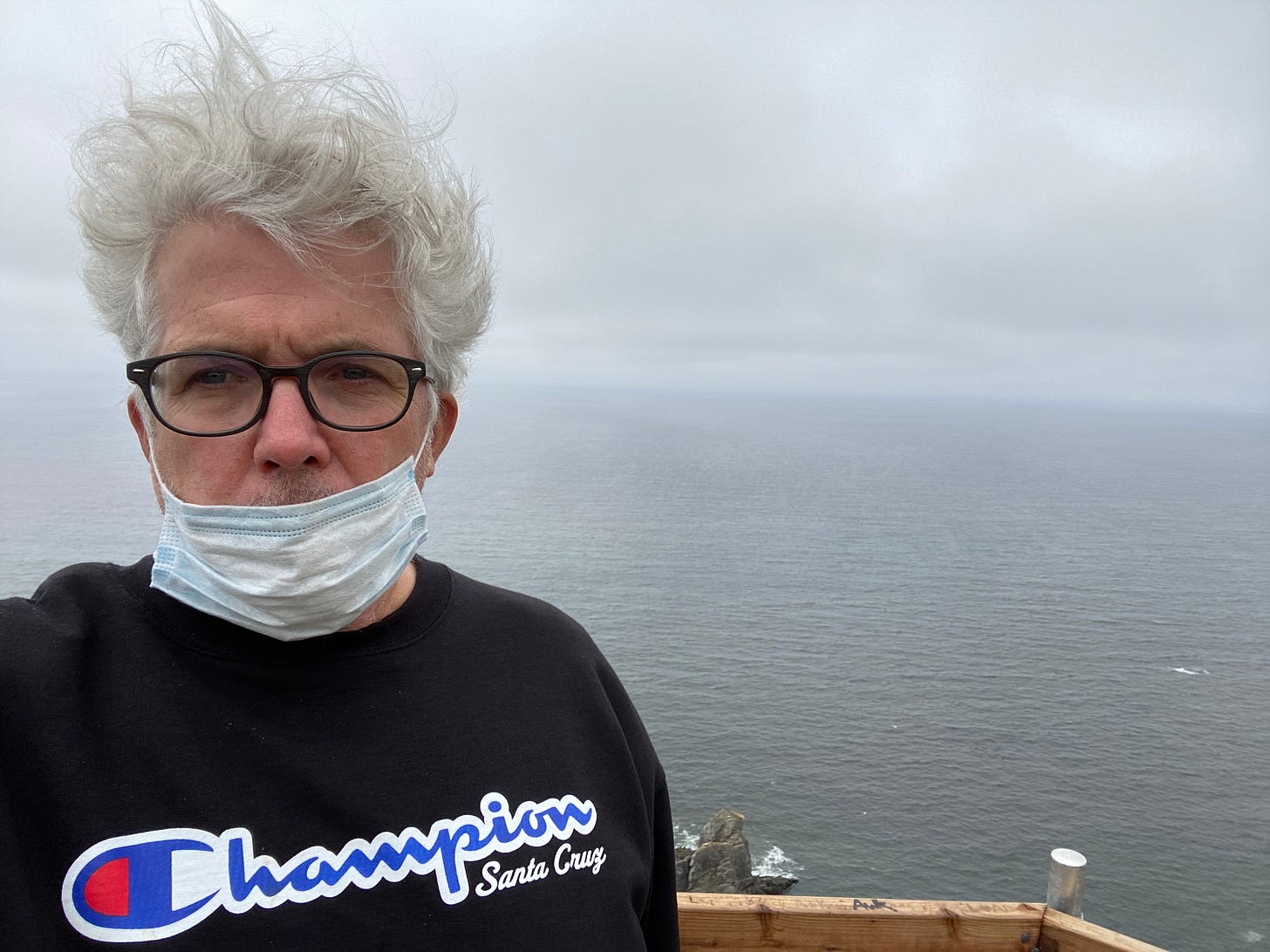 Stephen on a windswept cliff above the entrance to San Francisco Bay.