Discover more from Stephen's People
I write about the beauty of aging, even when it's ugly, and how we can live forever in this moment.
Over 1,000 subscribers
The aging face
(no. 20) Plus, relevance, Brockhampton and my sunburn, by Stephen P. Williams
(Please click on the heart, above. The more likes I get, the better I do.)
But first, this:
Many people feel increasingly irrelevant as they age. The next time you suffer such ennui, check out this amazing collection of stats to get a sense of how you fit into the world, or how the world surrounds you. Rather than making me feel more relevant, these astounding statistics put me at ease with the knowledge that everyone else is pretty irrelevant too. Knowing that, life seems easier.
---
Face it
I've never been put off by my aging face. My neck, for sure, drives me mad. But the wrinkles and lines on my face feel comfortable. I'm aware that this comfort is a privilege of being an older man. Most women are not allowed, or do not allow themselves, the ease that I feel. I haven't seen any info suggesting that women's faces age more quickly than men's (though I did find a study that says that women's brains age more slowly than men -- the average 70 year old woman in the study had the brain of a 66 year old man.) All genders wrinkle. All genders get old.
Feel free to mute this video's soundtrack
As we age, the actual structural elements of our faces change, in both men and women. Our foreheads appear to get bigger as our hairline moves back. The tissue in our noses tends to weaken, causing the tip of the nose to droop. And often, our ears get longer. On top of all this, the subcutaneous fat that kept our faces filled out and happy tends to migrate downward, encouraging those neck wattles that I so dislike on myself. That redistribution of fat can also cause wrinkles and lines to accompany those that are made from all the smiling and frowning we've done, and all the sun, cigarettes and processed foods we've enjoyed. And eyelid fat can drop into the eye socket area, leading to "sunken" eyes. Your eyelids might droop a bit as the muscles holding up your eyelids lose strength. Oh well.
I don't know any magic tips for keeping a face as youthful as possible, other than the standbys of exercise, whole foods, sunscreen and a hat (protecting  your face from sun is the most important way to slow visible aging) and clever use of makeup. You can get prescription retinoid creams, or go for botox injections. Or add collagen to your diet, which I've done as a way of keeping my skin healthy, among other things (see no. 18). Fillers and laser treatments are popular. Taking care of your teeth, so you don't have gaps and other issues that could distort your face, is important. Of course, there's always plastic surgery, although often that seems to make people look more "worked on" than youthful. Be sure to choose a good doctor for that. 
Lately, I have come across a few intriguing, and sometimes odd, treatments meant to give your face a youthful look. I can't vouch for any of these treatments, but I think you'll get a kick out of them. And maybe you'll find your go-to feel-good face treatment.
Facial massage
The actress Jemima Kirk, famous for her role on the HBO series, Girls, posted her facial workout on Instagram.
The New York Times wrote a fascinating story about the Brooklyn woman behind a rough and tumble face treatment said to stimulate the lymph system and take a few years off a person's face, if only for a day or two. You can make an appointment at Carrie Lindsey Beauty. Alternatively, you can have your face slapped (gently):
Face slapping
If slapping isn't you're thing, try this natural slime treatment:
Massage Escargot
Finally, lift your face using glue in place of scalpels.
DIY facelift
Sources:
---
I like this song called Face
This video of a bunch of guys beating up garbage cans and stuff while singing in high voices has no relation to today's topic, beyond its title, which is so on point. But I love the song, by Brockhampton, and maybe you will too. 
You can read the lyrics here
, but they will not make you younger.
---
Other fascinating ideas for interesting people:
Begin aging slowly when you are young
Young people who are curious, inquisitive and open to new experiences tend to age more slowly. Keep this trait alive throughout your life, for better health and aging.
This might be nuts
A look at results from a massive, long-term study of women's health behaviors found an association between twice-weekly walnut consumption and slowed aging in women. One caveat: the survey was sponsored by the California Walnut Commission. 
Longevity linked to a specific protein
Excitable neurons lead to faster aging, and this protein is believed to calm them down.
---
Sunburned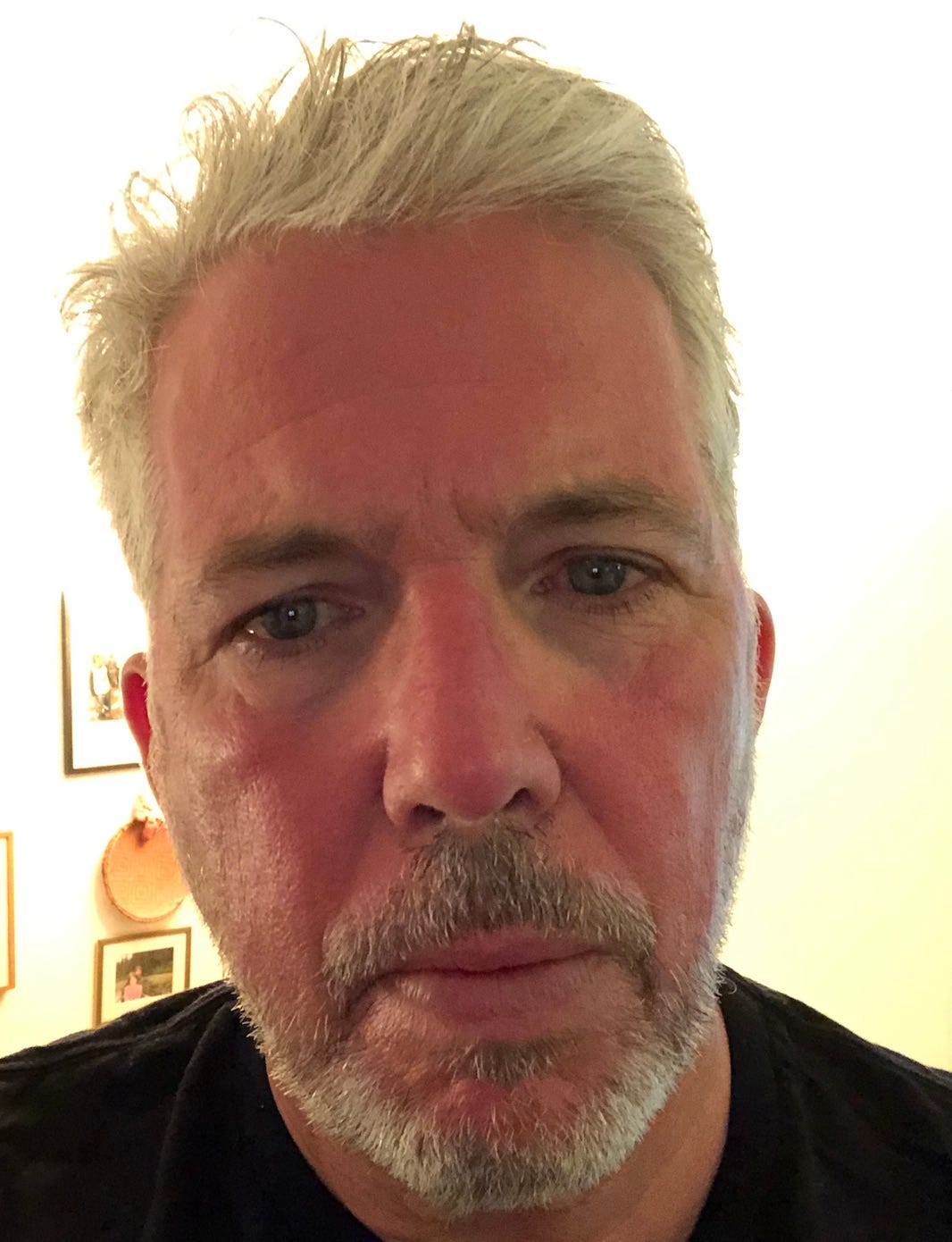 I went to Texas and burned my face. This is an example of what you should not do. Selfie by self.
Please share your thoughts with stephen@thenexteverything.net