Discover more from Stephen's People
I write about the beauty of aging, even when it's ugly, and how we can live forever in this moment.
Over 1,000 subscribers
The Sex Issue
(no. 10) Yes, people just keep having sex, by Stephen P. Williams
First, sex. The New England Journal of Medicine reports that

people 53-85 are definitely getting it on

. (PS: Clicking on the heart-shaped button above helps me a lot.)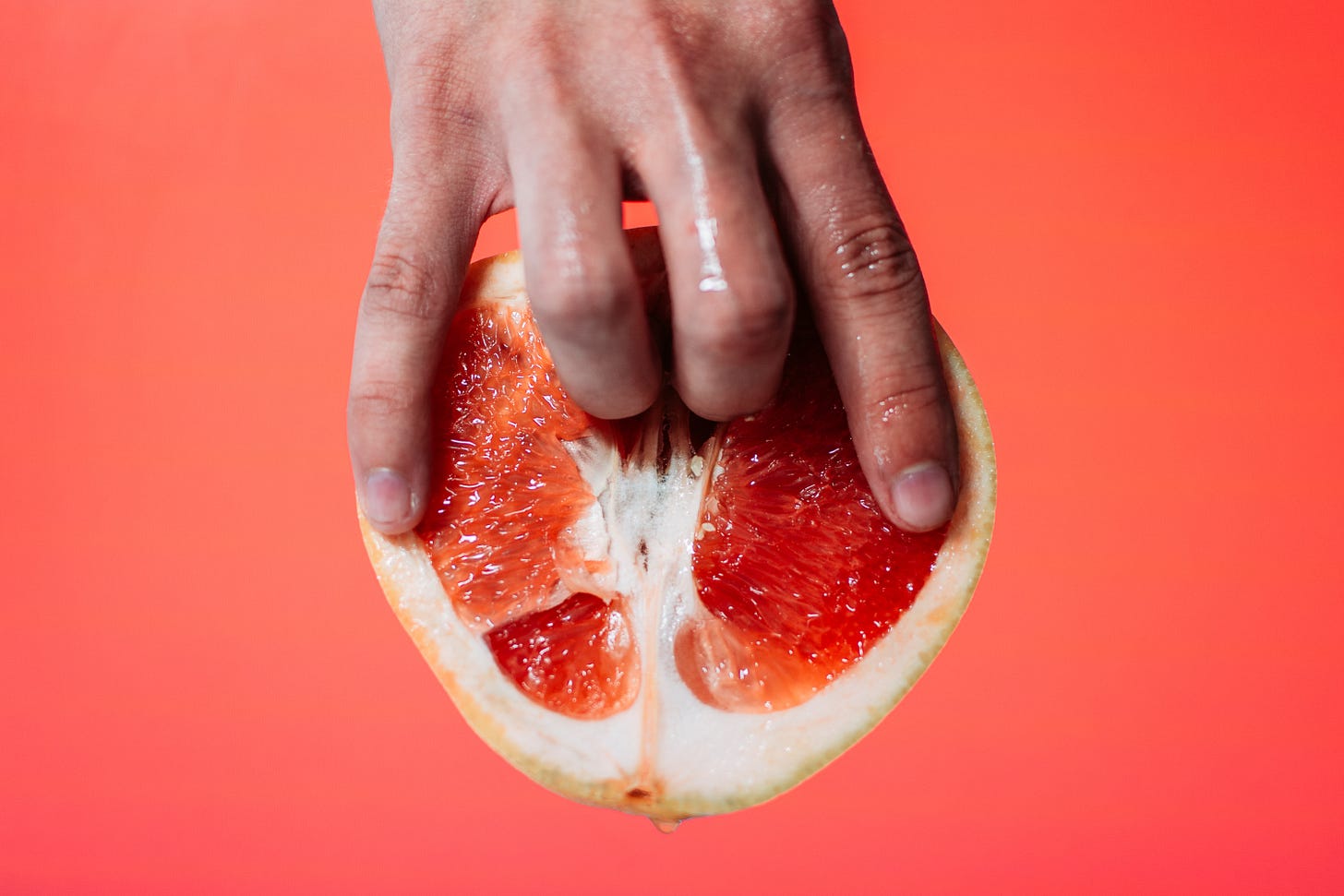 Interspecies stimulation. Photograph by 
Taras Chernus
 on 
Unsplash
I'm lucky today to publish comedian and writer Heidi Mastrogiovanni's essay about how her sexuality has changed through the years, from her 20s to her 60s. Enjoy her wonderful story. Follow her on twitter.
IT KINDA NEVER REALLY GETS OLD THOUGH, DOES IT?
by Heidi Mastrogiovanni
I recently turned 62, and my sex drive is very different from what it was at 22 or 32 or 42 or even 52. There are sexual pluses and there are sexual minuses to being a post-menopausal woman, and everyone seems to have an opinion about it.
There is no shortage of online lists of the sexual symptoms of getting older, all designed to give us pause about the whole subject, including those dreaded bugaboos, vaginal dryness and lack of bladder control (I mean, seriously, do we have to think about these problems in addition to everything else we've got going on? – the answer is yes). I prefer to fantasize about the positives, such as the advantages of sex after 50, which include no worries about getting pregnant, and no fear that the kids will knock on the door while you are fooling around (if you're lucky). Plus, we know what we want from sex and from our partners after years of trial and error. And then there's my favorite benefit of sex at 62: I am no longer a Slave to Lust. (Hallmark should feel free to use this title for one of their after-school specials.)
I was not always like this.  I had sex for the first time on Valentine's Day my freshman year at college, after meeting a cute boy at a party. It was the 70s, the decade of coke, free love and the pill, and I was feeling a bit behind the times being a virgin at 18. I took care of that problem quick that night, and once I started having sex, I wanted it all the time.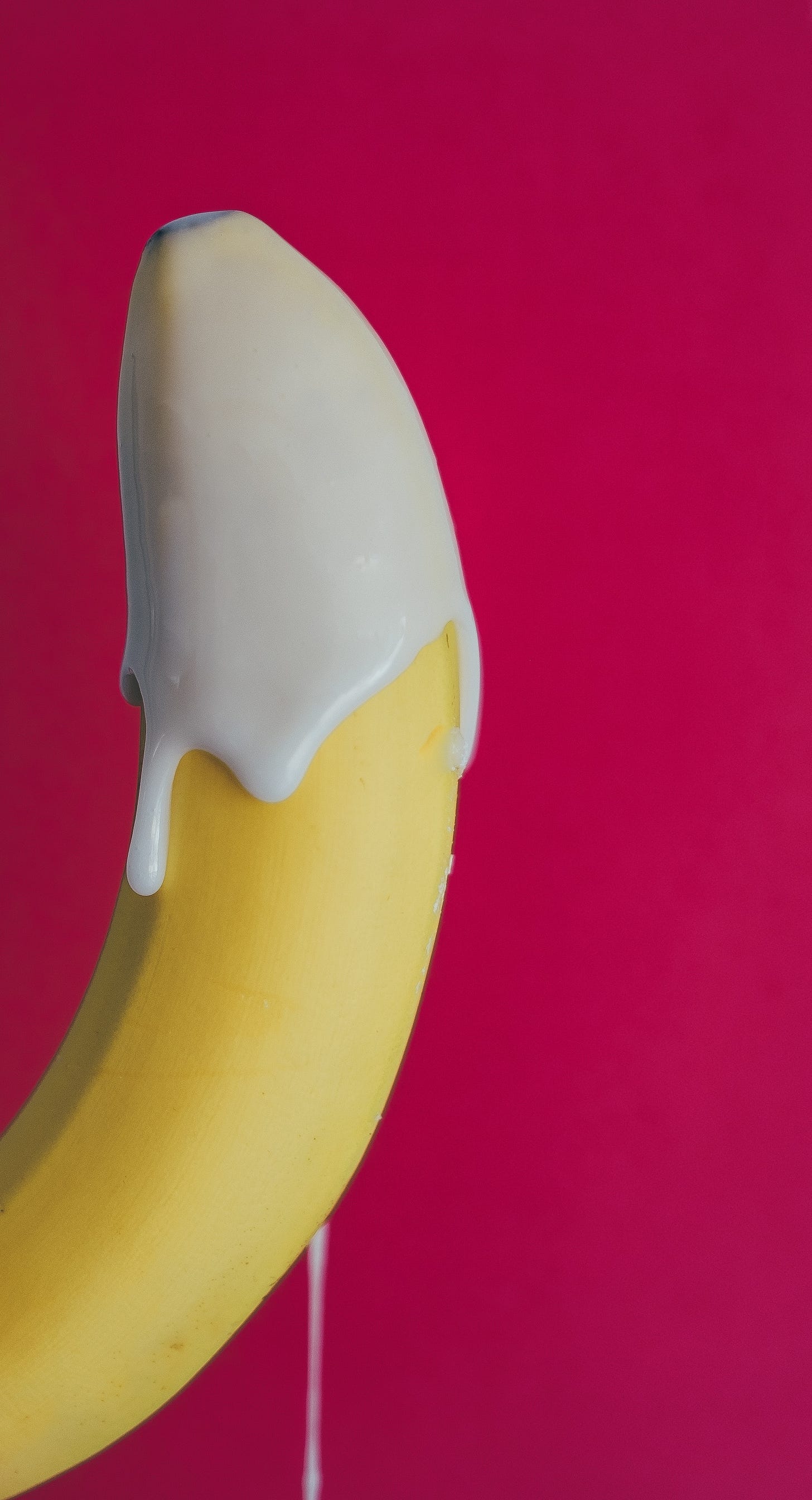 I moved to New York right after I graduated. It was 1979 and I was living on the glorious island of Manhattan. The subway cost 50 cents, I had a one-bedroom apartment down the street from the Guggenheim for just under $400, and my tits were quite fabulously perky. I felt desirable and invincible and free. Of course I walked all over the place because that's what you did in New York, and men noticed my youthful confidence. It wasn't that I was outstandingly pretty, but rather, I think, because I was exuberant and enthusiastic and those qualities shined out from me. It was a great city and a great time to be young. No restrictions, no requirements, no consequences.
I don't remember ever thinking about getting older. I don't remember worrying about the future. It really was all about the here and now for me then, and that was an overwhelmingly intoxicating feeling. I was ready to blaze a trail of destruction up and down every avenue. And I did. It was before any of us had ever heard of AIDS. Our biggest concern was getting genital herpes. Worrisome, but not lethal. It was possible to have a lot of fun in New York City in the early 80s without having to put too much thought into it. I remember one especially fun weekend. I went home from a party with an actor I had been swooning over in my scene study class. The next day I met my friend after her shift at a restaurant. One of her seriously handsome co-workers asked us if we wanted to join him at a restaurant where he knew the bartender. Cut to three hours later, and my friend and the actor and the bartender and I are playing strip Trivial Pursuit at my place.
L'amour, l'amour, toujours l'amour. Because I wanted to, and I could, and why the hell not?
I met my wonderful first husband, Dennis, at a party. Do I need to add that we had sex on our first date? Do I need to add that it is one of my most treasured memories? We went to see Trading Places, with Eddie Murphy and Dan Aykroyd and Jamie Lee Curtis, and then we went to dinner and then we went back to my place and started making out on my tiny sofa in my cramped living room and it was great.
Toujours l'amour. Sometimes it's about the great guy you met who went to the Royal Academy of Dramatic Art and who could identify the act, scene, and speaker of any Shakespeare quotation – that was Dennis. And, oh, yeah, it's also about hormones.
Dennis and I were married three years later. Yes, I still wanted sex all the time, but I was now in my late twenties. Sex was changing for me. If there was something else I wanted to do, I sometimes decided to wait until later to have sex. This would never have happened before I got married. But once I was married, the opportunity to have sex was pretty much always there, so the exquisite urgency to do it and do it now disappeared.  
Dennis and I had an up and down sex life, mostly up, until 15 years or so had passed, and he died of stomach cancer at age 47. I was 41, and I was in so much pain I couldn't imagine ever wanting to have sex again. It's not always just about hormones, is it?
Time passed. Very, very slowly, healing began to seem like a remote possibility. Even more slowly, I thought that I might, possibly, one day want to have sex again. When the desire to date again appeared, I felt differently than when I was younger. Divorce, death, they never occurred to me as dangers that might derail my life. But now that I'd experienced one of them, my worries about what a romantic future might lead to were heightened.  I tried not to let myself think about it too much. Yet as a single woman in my early 40s I felt a certain fear. All of society's clichés were under the surface of my thoughts as I put myself out there to meet new people. Would men my age be interested in dating me? Would men older than I was be interested in dating me? Would anyone be interested in dating me? Would I ever find someone as wonderful as Dennis? Needless to say, a few years passed when I did not have sex at all.
Then I met a musician with a gorgeous singing voice who was as kind and loving and fun and funny and utterly wonderful as Dennis was. Tom came into my life just as I was going into menopause. We got married. He has witnessed my rollercoaster sex drive. Yes, literally, up, down, up, down, up, down, at lightning speed.  I'm not one to go on any scary rides at Universal Studios, so this has been a revelation.
I didn't want to take synthetic hormones for menopause, because I just don't like adding drugs to my daily routine. I did go with all-natural supplements (Estroven was a quick and easy choice), that seemed to stabilize my moods. But there were still times when I didn't want to have sex because I was so angry. I can't be specific about what was ticking me off, because I don't think it was any one thing. It was a challenging time for our relationship. We did go to couples' therapy at one point and that helped us learn how to hit the brakes when we got tense and annoyed with each other.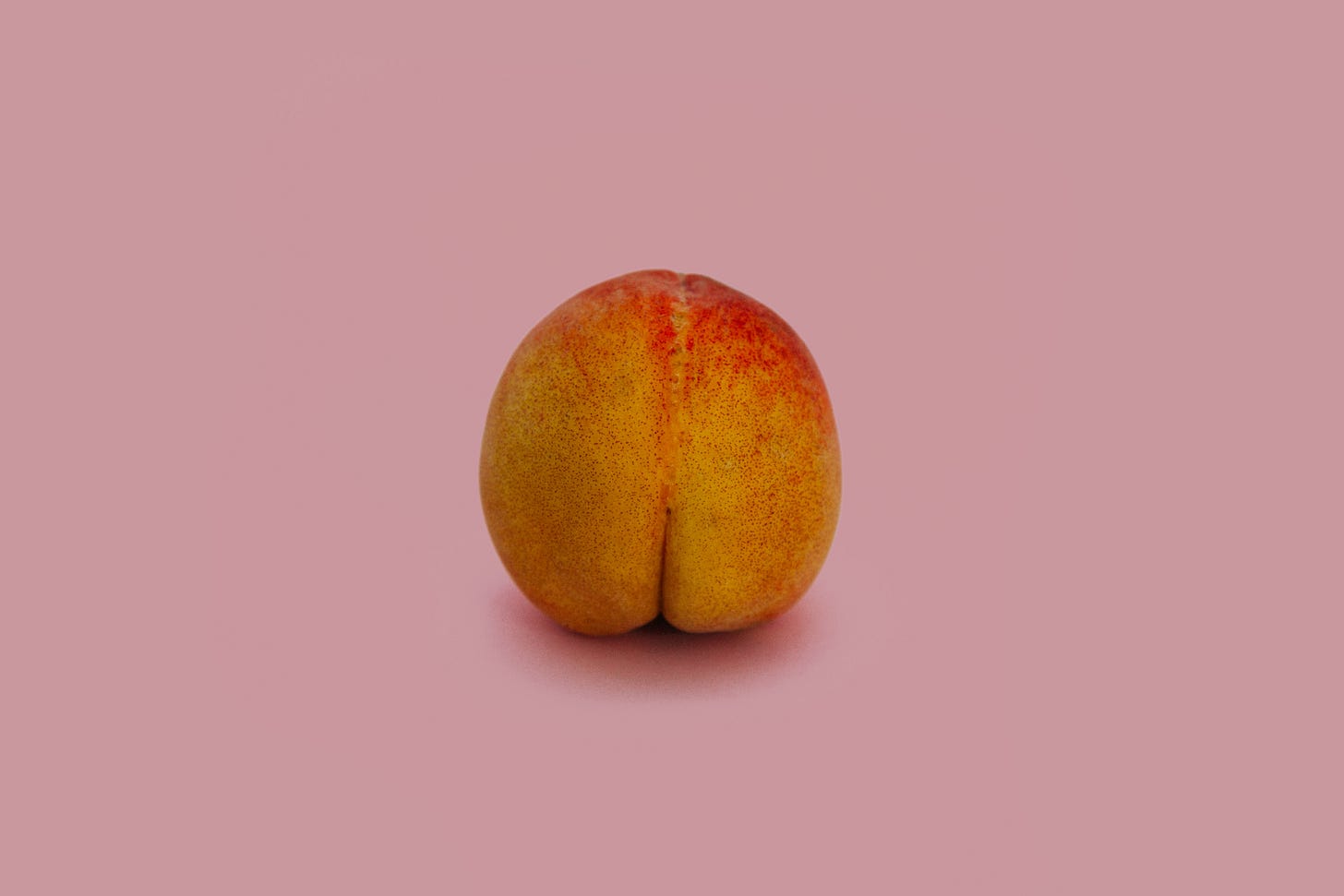 I now think about sex as something cozy and leisurely and comfortable. Sex with my husband of almost fifteen years is very different from the sex I had at 22 and even the sex I had with him when we first met. Now I'm in charge of my body and my desire, not the other way around. But my husband, who is 10 years younger than I am (yup, all that worry when I started dating again was ultimately for nothing, as so much worrying is), might tell a different story. I have to admit that he probably would say that he'd like to have sex more often than we do. How does that scene in Annie Hall go? A therapist asks a woman how often she and her boyfriend have sex. Her response is, "Constantly. I'd say three times a week." The therapist asks the boyfriend how often they have sex. His response: "Hardly ever. Maybe three times a week."
I hope Tom and I have found a balance between constantly and hardly ever that works for both of us. As with so many things in a marriage, this aspect of our relationship is a work in progress, one that is certainly worth putting the time and attention into.
Do I sometimes miss that incredibly heady feeling of wanting nothing more than to rip my clothes off and lose myself in waves of wanton desire? (Another Hallmark movie!) Yes. But I've found a great post-menopausal Age of Aquarius way to get myself in the mood: pot. Well, not exactly pot. When I want to get randy with Tom I take CBD, which is made from hemp but doesn't contain THC, and doesn't get me high.
After taking a few drops of a lovely tincture, I find myself just as out of my mind as I was in college, and this time it's all under my control. I'm not the only one doing this. I started taking the CBD potion to help me sleep, and I was delighted to find that it relaxed me enough that I could ease back into remembering what it felt like to be submerged in the feeling of wanting to have sex all the time.
Friends have told me that marijuana, with THC, helps them in this department. When I Googled, I found pages and pages of links supporting their experience.
(May I just pause to ask, my GOD, how did we function before the internet? Those days seem utterly barbaric in hindsight. No wonder I wanted to have sex all the time, just to distract myself from the horror of life in the Dark Ages, when we couldn't type aphrodisiac, menopause and marijuana and get a ton of science on the subject.)
One of my favorite websites about marijuana and post-menopausal sex is by Dr. Green Relief (guess which side he comes down on), who is wonderfully boisterous about the positive effects of marijuana on the libido, with headlines like "Marijuana as an Aphrodisiac? Studies Say 'Yes!'" that always make me smile. There's also The Cannabis Advisory, which offers an encouraging list of wonderful things marijuana can do for us, including helping with low libido.
"One of the more frustrating side effects of menopause can be low libido and vaginal dryness. Especially for women who have a high sex drive, watching your libido plummet during a time when your body is already undergoing drastic changes can make you feel personally out of touch," they advise.
What's more, 67% of respondents in a Psychology Today poll reported that they believe cannabis has improved their sex lives.
May I once again pause to add that if any scientists are thinking of conducting additional studies on this subject, I would like them to please be assured that they've already got their first volunteer. Because I bet a study like that would be a ton of fun. You see, what's especially delightful about this Lust, Lust, And More Lust, Phase 2 is that I can turn it on and off at will. I am, now and forever, the Master of my Domain. That is a sexy, powerful feeling I highly recommend.
Heidi Mastrogiovanni is a dedicated animal welfare advocate who lives in Los Angeles with her musician husband and their rescued senior dogs. Heidi's debut novel, Lala Pettibone's Act Two, was a finalist for the 2017 Foreword Reviews Indies Book of the Year Award in the Humor category. Her sequel novel, Lala Pettibone: Standing Room Only, was released in 2018. Heidi is co-host, with James Napoli (The Official Dictionary of Sarcasm), of the Movies Not Movies comedy podcast.
Other news for olds, youths and other sexual actives
The Invincible Generation
People age 15-24 make up half of all new STD cases in the US.
The secret to happiness.
This is how you do it.
Tips for getting it on at any age.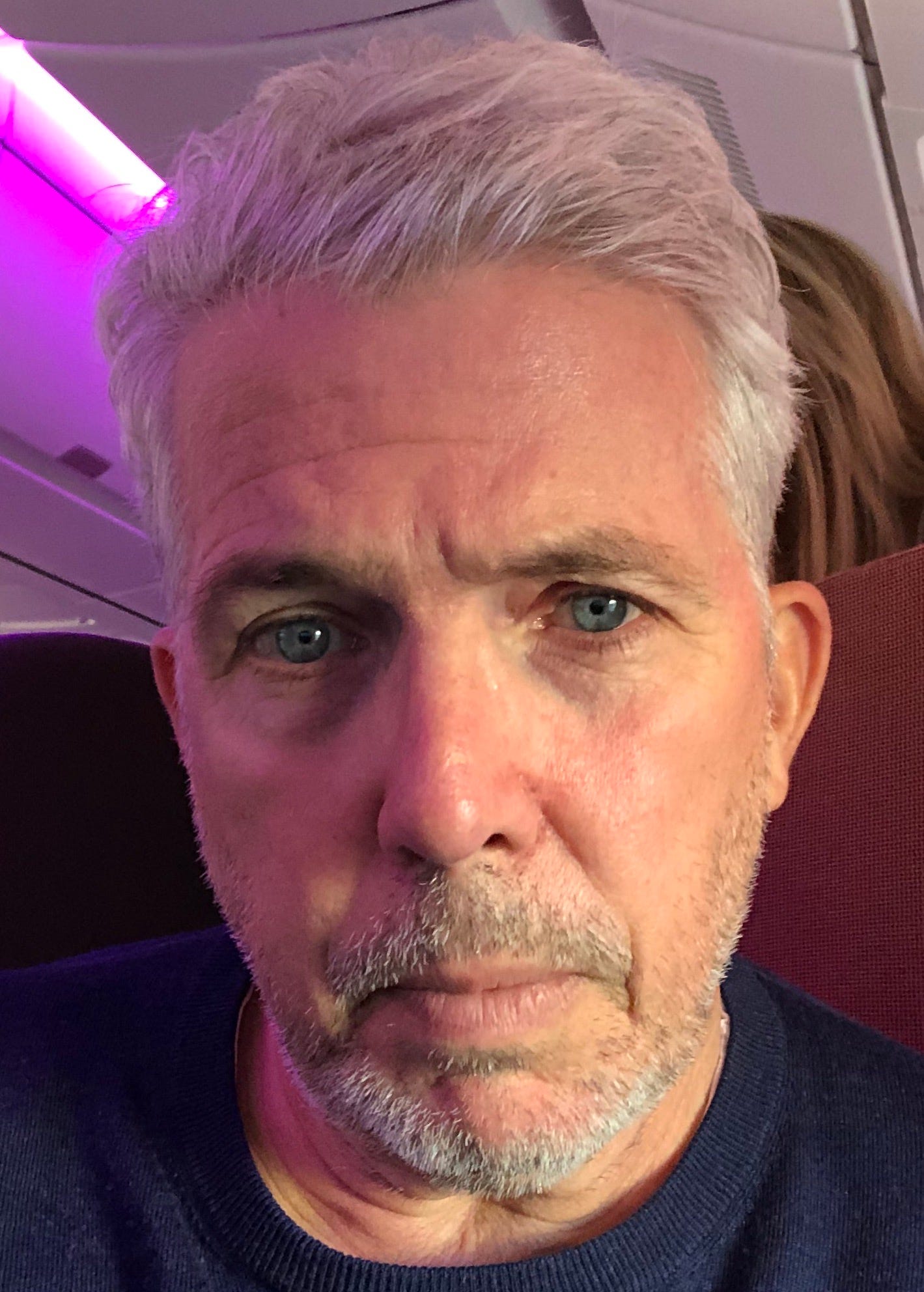 Stephen, thinking about what to write next. Photograph by Selfie.
Thank you for reading. Send your thoughts to stephen@stephenpwilliams.com