Discover more from Stephen's People
I write about the beauty of aging, even when it's ugly, and how we can live forever in this moment.
Over 1,000 subscribers
Turn on for better aging?
(No. 38) Using psychedelic mushrooms to battle the rigidity of time. By Stephen P. Williams
But first, this: while older adults are characterized as being most vulnerable to the virus,
The Kaiser Foundations says
that many older people have developed resilience to hardship based on previous experiences, and are doing relatively well in the pandemic.

Feed Your Head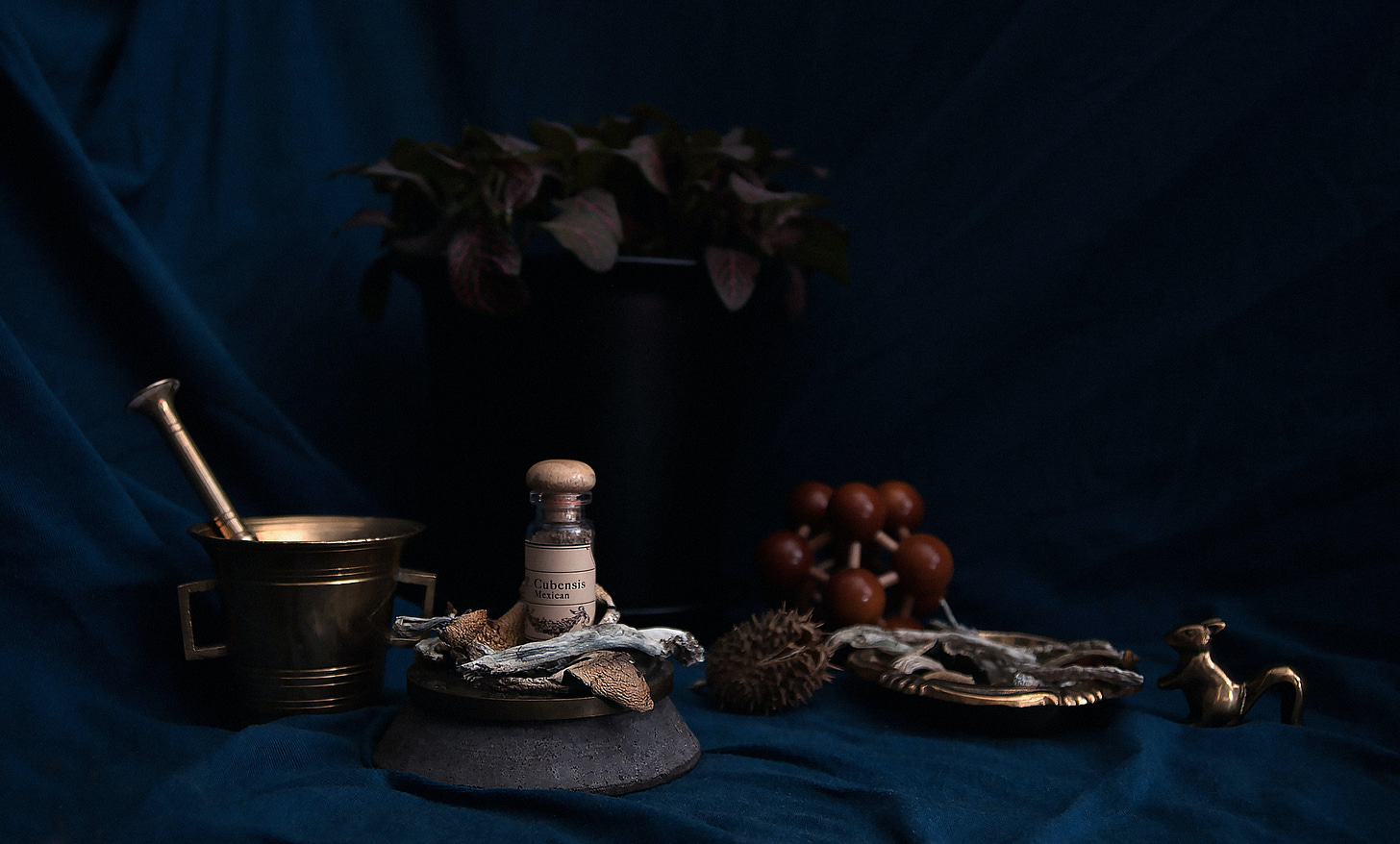 Photo of an imagined drug banquet, by
Pretty Drugthings
When I was a kid, in the late 60s, some of my father's friends tried to cure his alcoholism by guiding him on a mescaline trip. It didn't work (though other treatments soon did). Yet his friends were on to something. Psychedelic drugs, such as LSD, peyote and mescaline, are now being researched to see how well they relieve some of the psychological and behavioral states that afflict people as they age.
The crotchety old man is not a myth. Nor the mean old woman. Older people can suffer cognitive loss, decline in creativity and diminished ability to do basic caretaking tasks.  As a whole, older people are less open to new things, less empathetic and more isolated. They have more trouble finding meaning in their lives, and feel more depression and less optimism.
---
"...we were back at home, and I had returned to that reassuring but profoundly unsatisfactory state known as 'being in one's right mind."
― 
Aldous Huxley, The Doors of Perception
---
Magic mushrooms might help, according to a number of recent studies. The Johns Hopkins Center for Psychedelic & Consciousness Research, in Baltimore, is one of several such labs located in prestigious institutions. They've produced a raft of studies about the  beneficial effect of psilocybin and other psychedelics. They successfully treated conditions such as addiction, depression and the all-encompassing emotional stress of having a terminal illness. 
Grace Slick gives an amazing performance of the psychedelic anthem, White Rabbit, at Woodstock, August 17, 1969. Until watching this just now, I'd always thought the last line of the song was "free your head."*
Psychedelics are part of a "new era" of medical treatment that began in the 1950s, when scientists first discovered and studied LSD, and was interrupted by laws restricting the use and study of psychedelics in the 60s and 70s. In 2,000, John's Hopkins was granted a license to study the compounds. They've since found that one-time high-dose controlled treatments with psilocybin, for instance, have long term positive effects.
Older Americans take huge amounts of pain relievers, anxiety meds and other drugs, for extended periods of time. How amazing it would be if single or occasional doses of psychedelics, administered in a controlled setting with a professional in attendance, could lift the need for much of this medicine. In addition to psilocybin, drugs now being studied include ayahuasca, a plant-derived hallucinogen long used by Amazonian shamans; LSD; and MDMA, aka ecstasy. The treatments are standardized and monitored -- unlike the experiments at Grateful Dead shows in the 60s. It's not "tripping," as many baby boomers knew  it in their younger days. But it might offer a huge relief.
At Imperial College, London, researchers gave psilocybin to 12 people who had been clinically depressed for an average of 18 years. One week after taking the drug, each of the patients noted a marked improvement in their depression. After three months, five of the 12 had no depression at all. That's remarkable. And it seems that the treatment works well in older people.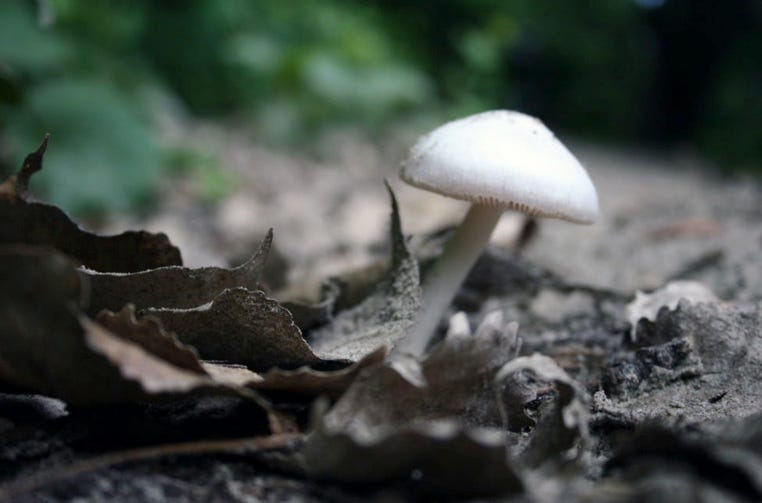 Is this mushroom magic?
Curiously, one of the most commonly reported and illuminating effects of psychedelic treatments reported by everyone from cancer patients to anxious college students is a sense that a feeling of overwhelming love is at the core of everything. Simply love. 
Beyond tangible illness, many older people feel a sense of ennui, of disconnection and of purposelessness that is magnified by physical and perhaps mental limitations. Psychedelics might offer new ways of thinking and seeing to older people in search of change.  Noted author Michael Pollen wrote a book called "How to Change Your Mind," which explores the effects of psychedelics on our development and progress.
"I've begun to wonder if perhaps these remarkable molecules might be wasted on the young, that they may have more to offer us later in life, after the cement of our mental habits and everyday behaviors has set," Pollen wrote. 
A 2013 study published in the Journal of Psychopharmacology was titled, Mystical Experiences Occasioned by the Hallucinogen Psilocybin Lead to Increases in the Personality Domain of Openness. The title is a pretty effective summation of the article's contents. Many people are wary or disbelieving of anything "mystical,"  and so were many of the participants. But those who experience such mysticism during their psychedelic experiences were more likely to have long-lasting positive effects. They were more open to experiences than before, and this lead to less discomfort.
I haven't taken psychedelics since I was in my early 20s, and I'm in no position to recommend them either way. But the research and anecdotal reports I've heard from a number of adults intrigues me. The Multidisciplinary Association for Psychedelic Studies offers a newsletter that can keep you up to date on studies that are looking for participants. In addition to the The John Hopkins Center for Psychedelic & Consciousness Research, and other accredited institutions in the US, there are alternative centers located in Costa Rica and Peru. One, The Temple of the Way of Light, which offers ayahuasca therapy in a Peruvian setting, is planning retreats for 2021. I could always stand to be more open, and I've always loved visiting Peru. Maybe I'll see you there.
*The last line of White Rabbit is "feed your head."
Three things that are good to know
Keep cool
Sleeping with a lower room temperature might help you lose weight as you age.
Extended road trip
I know you want to hit the road, either for a vacay or to retire. The AirBnb of recreational vehicles let's you rent other people's motorhomes and trailers.
Infusion
What is infusion? The president talks about how he was infused with a drug to fight COVID-19. Ads on TV mention infusion. What the hell is it?
---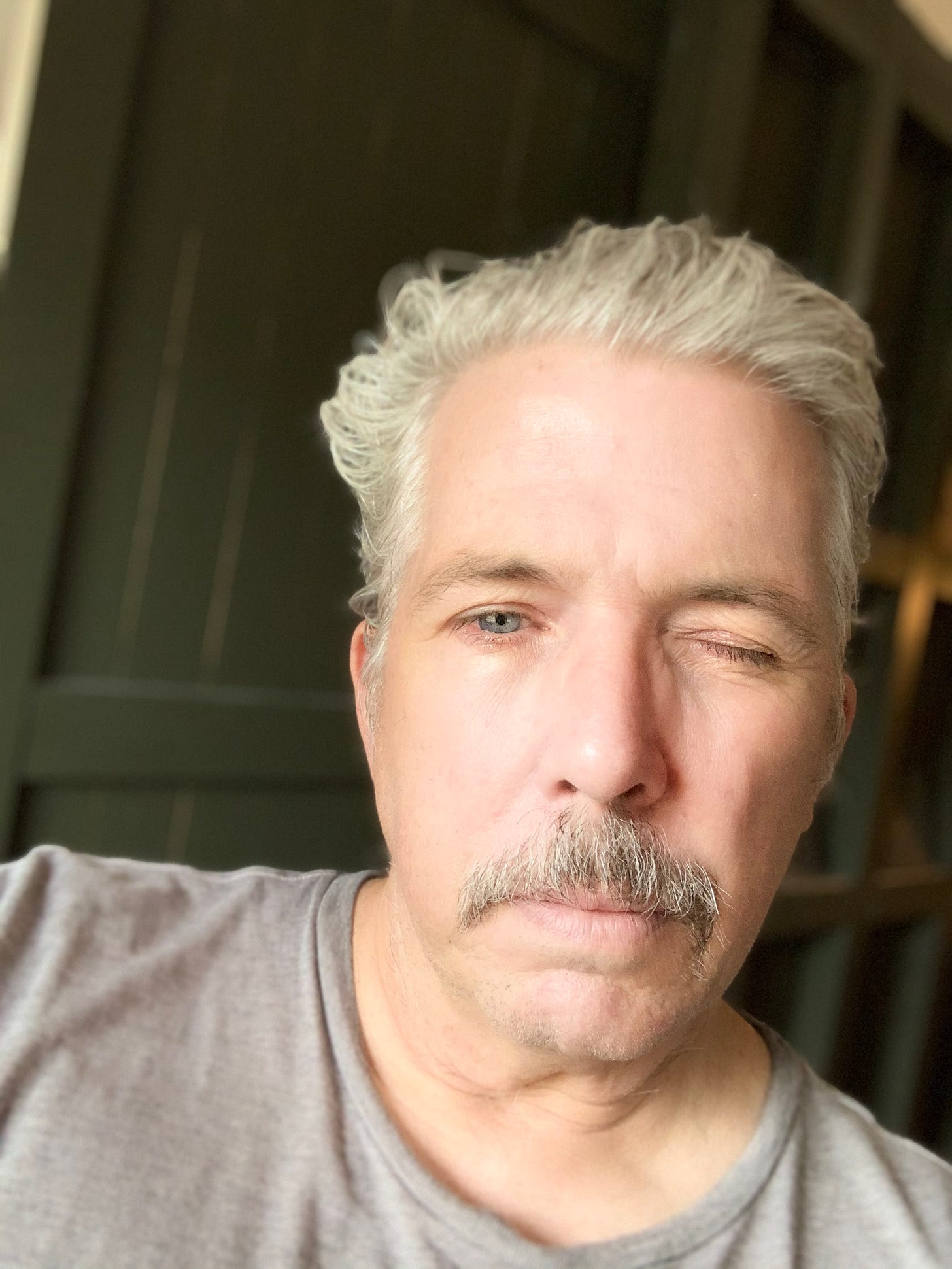 Selfie by Self.
Always change things up to make your brain, soul and body more flexible. It's good to laugh at yourself, and selfies can help. Let me know what's on your mind! stephen@stephenpwilliams.com